Over the River and Through New Jersey
Destination: Aunt Elaine's house, NJ
Driving Time to Dest: 2 hrs 25 min
On the road again for the first time in 5 days. We did take a short and close by excursion to the Branford trolley museum – a worthwhile trip despite Henry screaming to and fro. I admit that screamfest did give us some pause about starting to make our way back to Louisville (and starting our most rigorous driving schedule yet). But we got on the road on schedule with Henry sound asleep and Lilly content to color her new My Little Pony coloring book. I'll take it.
Once again we are breaking up the day to avoid a 5+ hours stretch of all driving. So we've left a houseful of Elliott's relations to visit with my aunt and her family in New Jersey — conveniently located dead center between the house in CT and today's final destination: Lancaster, PA.
Tomorrow we'll spend the day there – our last day of car-free vacation. We've yet to decide whether we will be going to our third amusement park of the trip – Dutch Wonderland – or some other attraction. In this heat the waterpark Is tempting, but it doesn't exactly scream "Amish country!"
===========
Destination: Lancaster, PA
Driving Time to Dest: 2 hrs 25 min
Just wrapped up a lovely visit with my aunt, uncle and cousin in NJ.* It was a perfect way to beak up the day — a bite to eat, a dip in the pool, good conversation, and ultimately two sleepy kiddos.
So here we are 1+ hrs into this leg. Henry is asleep and Lilly is thoroughly engrossed in Tangled. Smooth sailing. Though I do wish we had left this stowaway fly circling my head in NJ.
Passing through the Kutztown vicinity of PA now, near Reading, and it is some of the most beautiful scenery we've seen yet. Farmland and old, beautiful farmhouses as far as the eye can see.
===========
Arrived in Lancaster, PA in good time, but perhaps a touch too late for Henry. He was screaming for dinner as we attempted to stop for some authentic "Dutch" cuisine (whatever that is). We tried three places. First: Long wait. Second: Closed. Third: Too fancy for kids. At that point we couldn't take the screaming anymore, grabbed some fast food and headed to the hotel.
Both kids were absolutely pooped. Henry fell asleep with little fanfare. And before long we had this snug little bug.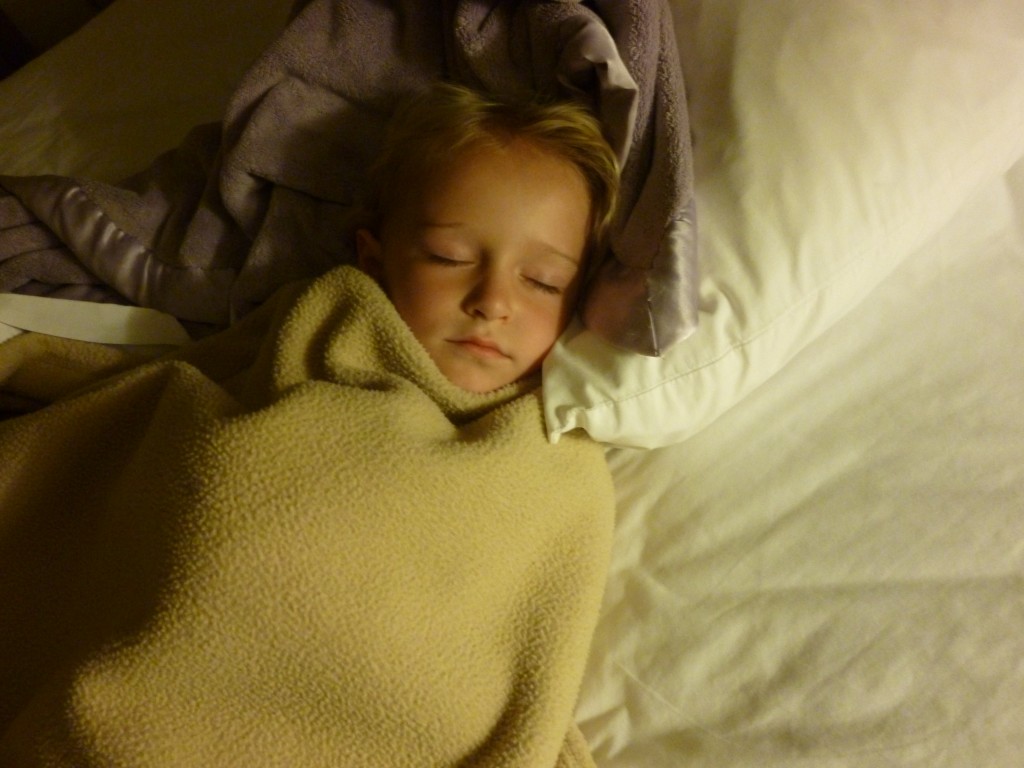 Tomorrow's plans are completely up in the air at this point. The kids are wiped out and it's about 1000 degrees outside. We seem to have 3 options: 1) stick to Plan A – Dutch Wonderland; 2) Do something a little more low key that will give the kids some downtime before heading home; or 3) scrap all other plans and get on the road. We'll see how things look in the morning.
*Forgive my descent into succinct, subject noun-less sentences. Typing on an iPhone is really getting to me and my apparently gargantuan thumbs.
The
Over the River and Through New Jersey
by
MushBrain
, unless otherwise expressly stated, is licensed under a
Creative Commons Attribution-NonCommercial-NoDerivs 3.0 Unported License
. Terms and conditions beyond the scope of this license may be available at
mushbrain.net
.