Ok, this family vacation thing has gone on long enough. Let's do this! Here's how the rest of the trip went.
We woke up in Lancaster, PA and decided to just go for it: wear the kids out one more time with a third amusement park in 2 weeks. We had the hotel for one more night anyway, so there was no reason not to just take our time, have a good time, then get a fresh start the next day heading home. Off to Dutch Wonderland we went.
The morning started off good. Dutch Wonderland is royalty themed and the entrance is through a castle, so Lilly was pretty excited to be there.
We were impressed with Dutch Wonderland. It is a really nice park. It is very clean, good rides, family friendly — kind of a newer-looking Idlewild. We broke in the day with a few easy-going rides and storytime with a princess. But Lilly had a mission: face-painting.
Earlier in the trip, at Idlewild, there had been a bit of drama over face-painting. We let Lilly get her face-painted at Idlewild, but following the day at the park Lilly fell into a deep sleep in the car on the way to dinner. She actually slept through being carried in and out of a restaurant. By the time she woke up in the hotel, she was impossible to talk to, much less reason with about anything. We fed her and got her in the bath and then it hit her. "You washed my face!! I thought I was going to wake up with it! I never got to see my butterfly!!" She was horribly disappointed and nothing would console her. Elliott felt terrible, but what was done, was done.
So, first order of business at Dutch Wonderland for Lilly was face-painting. Elliott and I exchanged a knowing glance that this would have to last ALL day and she'd have to have a chance to get a good, long look before bed. What we didn't consider was that it was already about 100 degrees and it was 11 a.m.
Anyway, Lilly got her face paint while Henry took his first carousel ride and life was good. And, really, the face-paint kind of made my favorite part of the day – these awesome photos: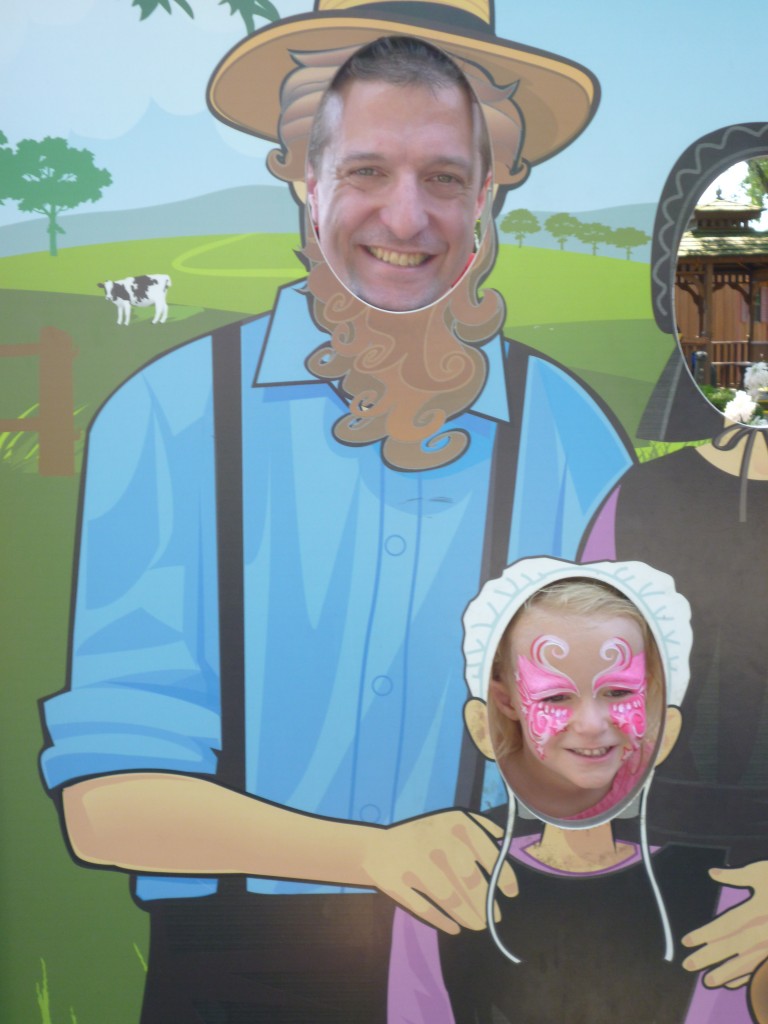 I love those pictures. They crack me up every time I look at them. Look how much fun everyone was having! Then. Right then. It was all downhill from there.
About an hour into our day at the park, it became clear that the heat was wearing on the kids and they were losing interest in the rides. It seemed like a good time to segue into the water park.
Three problems with that plan: (1) face-paint; (2) none of the water rides were appropriate for Henry;  (3) by the time we reached that side of the park, both kids were absolutely screeching balls of tears.
We decided it was maybe time to leave the park, get some lunch, maybe a nap and come back later in the day. In the approximately .2 miles back to our hotel, we decided fast food would be best and opted for the Wendy's right next to our hotel. By the time we got out of the car at Wendy's, all childhood tantrum hell had broken lose and without batting an eye Elliott and I made a decision: This vacation is over. We packed the screaming kids right back into their carseats, grabbed lunch at the drive-thru and headed back to the hotel with a new mission: Get out of our second night at the hotel hopefully with our money refunded and get on the road.
Mission: Accomplished. With one caveat – we had 15 minutes to get our shit and go.
The next 15 minutes are a blur. Elliott ran around like a madman grabbing all our belongings and throwing them into anything that would hold them and then haphazardly into our trunk, while I got the kids back to the room, changed out of sweaty bathing suits, fed, calmed down and back into the car.
Within mere minutes in the car, Henry was asleep. Lilly was happily entranced by Rapunzel on the iPad. Elliott and I were relieved to have some quiet and utterly convinced that this was the right choice. This is what the kids wanted all morning: sleep and a movie. It was a no-brainer. Let them do that for a while as we shave 2-3 hours off the 10 hour trip home; find a hotel.
When Rapunzel ended, Henry was still sleeping and Lilly was happy to jump right into Happy Feet 2, so what the heck, let's get another 2 hours under our belt. If Henry wakes up cranky, we'll feed him and play it by ear. We already saved ourselves a few hours of driving tomorrow. We felt good.
But Henry didn't wake up cranky. He woke up calm as Lilly finished her movie. We took a potty break for Lilly and fed Henry and figured we'll just drive until we find a place for dinner and then find a hotel. But then this happened.
An hour or so later, everyone was awake and getting hungry so we stopped for a leisurely, kid-friendly dinner. Getting back in the car, Elliott and I were feeling good. We'd drive until we found a hotel. We'd already gotten about halfway home and we had only planned to go 2-3 hours; the kids were obviously happy having a down day. Things had gone well. Let's call it a day.
But before we could find a hotel, Lilly was sleeping again and Henry was happily cooing, so we drove on.
It was already 8 p.m. and we were already through Pennsylvania, West Virginia and into Ohio. We knew we were beginning to push our luck. There had been a lot of napping today and bedtime would not go well if we let it continue. We decided to call it quits at the next populated area: Zanesville, Ohio. We'll let the kids stay up, burn off some energy. We made such good time, it would be no problem to take some time in the morning to do something fun then get back to driving and finish this thing off.
What's in Zanesville, Ohio, you ask? I have no idea. But it must be really freakin' awesome. Because on this random Friday in July every single hotel was booked. Not cool, Zanesville. Not cool.
Lilly was stirring once again and she does not do well with late naps. Henry was also stirring on and off, but thus far had mostly been returning to sleep with little fussing. Our next hope for a hotel was Columbus, but that was another hour away and we were getting worried. This could get ugly fast. It was time to be a little more proactive.
I started calling hotels in Columbus as we drove through Zanesville. All. Booked. Up. Are you kidding me?! This possibility had never even entered into our thought process, but here we were: 3 hours from home at 9:30 p.m. Push through to Cincinnati almost 2 hours away? Try every little town in between looking for a hotel? There would be no sleeping in a hotel if the kids slept much more. No sense in trying. Louisville or bust!
We thanked our lucky stars that we have the 2 most awesome kids in the world — who still after 7ish hours in the car were not complaining — checked that Henry was still sleeping soundly, and turned to Lilly.
"Want to watch Toy Story 3?"
And we were off.
Just outside Cincinnati, it happened. We had to stop for gas and the blinding light of the gas station woke up the kids And they'd had enough.
We found a sleepy McDonald's nearby with a play place. Perfect. Alas, the play place was locked. I wish we had checked that before promising Lilly a chance to run around, because very suddenly our screeching, pink face-paint streaked tornado of a child was back. Elliott tamed that wild beast by letting her run around the car in the empty parking lot while I sat nursing Henry in the car.
Lilly was not happy to get back in the car, but thankfully I still had another trick up my sleeve. We pulled a new My Little Pony out of the trunk and we were off. But within minutes, Henry lost it. The poor kid had been sleeping ALL DAY. He was awesome, but he wanted out now. He screamed through Cincinnati. On the other side of the city, we stopped long enough for me to cram myself between the car seats. For the next 30 minutes, I sang every lullaby I could think of to Henry and both kids drifted off to sleep one more time.
We got home by 12:30 a.m. and amazingly transitioned both kids into their beds and dropped. It was done. The long, crazy trip was over 2 days early. It was an awesome trip. Awesome to go. Awesome to come home. We'll do it again. A long, long time from now.
The
Are We There Yet?
by
MushBrain
, unless otherwise expressly stated, is licensed under a
Creative Commons Attribution-NonCommercial-NoDerivs 3.0 Unported License
. Terms and conditions beyond the scope of this license may be available at
mushbrain.net
.