About MushBrain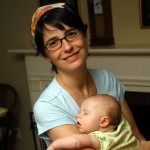 Hello. My name is Christa and this is my blog. I'm a native New Yorker now living in Louisville, Kentucky. I am a litigator-turned-SAHM (stay at home mom). I live with my wonderfully supportive husband, Elliott, my cheerful one-year old daughter, Lillian, our often mischievous beagle, Hazel (aka the Nut) and our schizophrenic cat, Mowgli (aka the Jerk). Clearly, I like adjectives.
So, why MushBrain? Scientists have found that mothers of newborns temporarily lose IQ points – along with memory and other cognitive skills – in the 24 hours following the birth of their child, i.e. the mushbrain effect. Personally, I noticed the points dropping off shortly after getting pregnant and still wonder if I'll ever get them back now that I've spent over a year at home with my little munchkin. Truth be told, I would rather do nothing else than stay at home with my daughter, but there was a time when I spent the majority of my day analyzing the fine details of American law. And now I spend much of my day fighting off the urge to sing the painfully catchy theme song to "Elmo's World" — most noticeably, when I'm standing in the middle of a room, baby in tow, wondering what I was planning to do there.
This blog is my attempt to fend off the all too frequent bouts of mushbrain that strike when I spend too much time thinking about mommy stuff and not enough time interacting with the outside world and adult human beings. I'll post about a variety of topics, many of which will no doubt indulge my mushbrain's propensity for focusing on all things baby. But I also hope it will be a springboard for thinking about other topics for moms like me — and other mushbrained beings — who are looking for a bit of brain stimulation.