So, I just discovered Pinterest, thanks to my sister-in-law, and I'm hooked. If you're not familiar, it's an online pinboard, where people can pin and share ideas and inspirations. If you are at all creative – or aspire to be – I highly recommend it. (You can follow my pins by clicking on the Pinterest link in the sidebar if you are so inclined.)
Despite my lack of energy in this final month of pregnancy, I find myself planning craft after craft inspired by the many great ideas "pinned" on that site.
So, this weekend when I found myself too tired to finish up my final 2 curtain panels for the baby's bedroom, I turned to another craft I had in my queue and made this DIY baby mobile.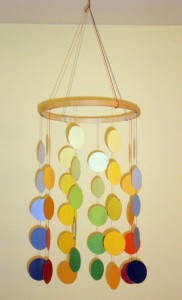 Isn't it cute? And even better – it costs almost nothing since it's made from paint samples! I wish I could take credit for the genius idea, but I can't. Instead I'll link you to the original mastermind, Liz Stanley, at her blog, Say Yes to Hoboken.
I'm one step closer to a finished nursery! Nesting Instinct, don't fail me now!
The
DIY Baby Mobile
by
MushBrain
, unless otherwise expressly stated, is licensed under a
Creative Commons Attribution-NonCommercial-NoDerivs 3.0 Unported License
. Terms and conditions beyond the scope of this license may be available at
mushbrain.net
.