Just finished another round of Valentine's Day crafting with Lilly, which got me thinking about our homemade valentines from other years. Each year I've tried to come up with a simple, but made-with-love Valentine's Day craft for Lilly to make for her loved ones. Since they are all fun, inexpensive and toddler-friendly crafts, I thought I'd share some of her valentines from the last three years as ideas for others with little ones.
Age 1: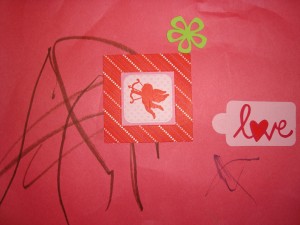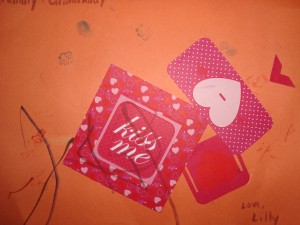 We used some Valentine's Day-themed scrapbooking paper from the dollar bins at Target to make these valentines when Lilly was 18 months old. She picked the construction paper color and the shapes used. I provided some assistance with the glue stick and then she added some extra "design" with markers and stamps to finish it off.
Age 2: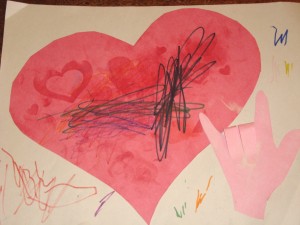 By 30 months, the sign for "I love you" was very well established in the signing vocabulary of our family, so it only seemed fitting to work it into our valentines. I traced Lilly's hand, cut it and the heart out, and glued down the fingers to sign "I love you." Lilly did all the gluing and added touches.
Age 3:
This year we had to step up production since we were also making them for 11 classmates. So I bought a 30-pack of foam hearts for a few bucks at Target an then just let Lilly go crazy with all our glitter glue, stickers and stamps. At this age, Lilly was running the show and did everything herself. I just wrote out "Happy Valentines's Day" on the back and let her sign her name.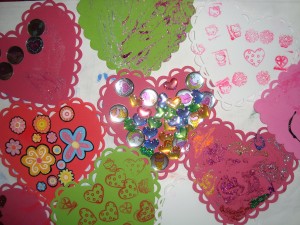 They're not the craftiest of crafts, but they were perfect for getting Lilly involved at each age. And that's what makes it a gift from the heart.
Happy Valentine's Day!
The
Toddler Valentines
by
MushBrain
, unless otherwise expressly stated, is licensed under a
Creative Commons Attribution-NonCommercial-NoDerivs 3.0 Unported License
. Terms and conditions beyond the scope of this license may be available at
mushbrain.net
.