I like to think of myself as a crafty person. A do-it-yourselfer. A person who can find a way to make it rather than buy it given enough free time. It's a logical belief. I mean, it's in my genes: my mom is a sewing and crafting guru and my dad is proudly the most frugal man in the universe. Those two traits inevitably lead to a lot of DIY time growing up. And as I've previously mentioned, I was a Girl Scout for an embarassingly long time. So, now that I'm a mom I relish the thought of doing arts and crafts projects with Lilly, making clothes for her, teaching her how to sew and — the mother of all motherly crafts — making custom-order Halloween costumes.
There's just one little thing that seems to be standing in my way. It's this other trait — or maybe just personality flaw — that I'm . . . well . . . let's say "easily distracted."  Anya Marina (one of my favorite singer-songwriters) describes people like me another way: "Miss Almost. Miss Maybe. Miss Halfway."
Shortly after Lilly was born, I pulled out my sewing machine for the first time in years and had it in my head that I'd go straight to work practicing making some simple projects — pillows, curtains, maybe a baby dress or two — so that when Lilly's 2nd Halloween rolled around I'd be ready to churn out a cheap, easy, homemade costume.
I did make these pillows: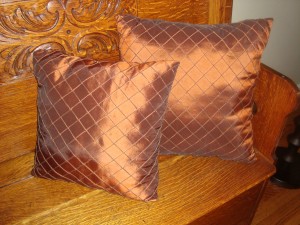 And this dress sans pattern: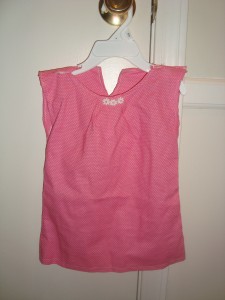 This actually looked a bit nicer before sitting crumpled up in a drawer for a year, but notice the unsymmetrical Michael Jackson-esque shoulders? Yeah, that was not intended and it turned me off of baby clothes for a little bit. I clearly was not ready for Project Runway (Toddler Edition). So I turned my crafting ambitions away from sewing for a while.
It was winter. We had hats, scarves and mittens strewn everywhere. We needed a basket. After a stroll around Pier 1 one day, I saw a very cool basket made of recycled newspaper. But $20+ for a basket made of newspaper? Phppff! I can make that! Within a few days, I'd stocked up on New York Times, printed out this blog post from CraftStylish, found some trashy reality TV marathon to play in the background and went to work. Here's what the basket looks like today: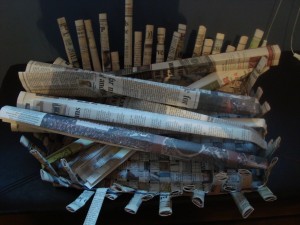 But doesn't the bottom look nice?!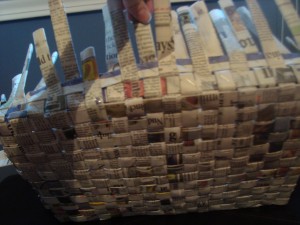 I'll get back to it. Really, I will. (Stop smirking. I mean it.) And, by the way, Lilly's Halloween costume last year? A $25 bunny costume from Halloween Express. But didn't she look cute?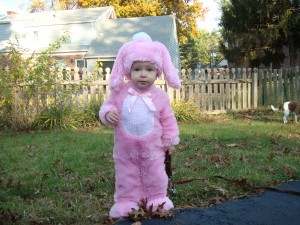 So a few months ago, I was once again feeling the urge to sit down at my sewing machine. Lilly had been wearing lots of cute A-line sun dresses and, really, how hard could that be to make? This time I decided to go the old-fashioned route — using a pattern and making lots and lots of calls to the Sewing Hotline (aka Mom). Within just a few naptimes, I'd churned out a pretty nice looking A-line dress: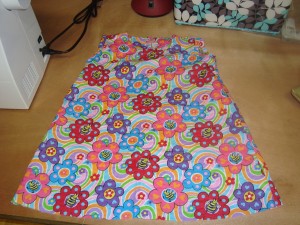 It's two months later and all that's left to do is a simple pocket and bottom hem, but it's just been sitting . . . waiting.
Now, in my own defense, I'm not entirely unfocused and unaccomplished. Despite the above failures to maintain motivation, I have completed quite a few other projects. Besides re-attaching numerous loose buttons and making several adorable handprint Christmas ornaments for gifts (sorry, I don't have a picture handy), I made these cute favors for a friend's baby shower: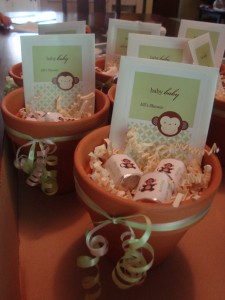 (The seed packets came from Pitter Patter Creations.) And this hat that I wore to the Kentucky Derby: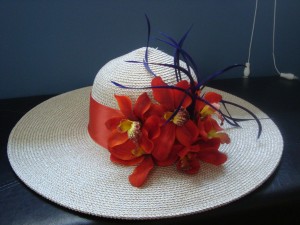 I also finished this birth announcement cross-stitch for Lilly: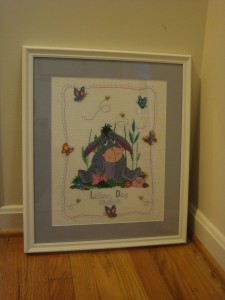 Unfortunately it's been sitting on the floor, all framed and matted, for about a year now.
Of course, I still plan to return to each of these unfinished projects one day. Because that's how people like me live. It's not that these projects are abandoned; they're just held up, for one reason or another. Waiting. Until I can get back to them. One day.
Now here we are less than 3 weeks away from Lilly's 3rd Halloween. For months she's been saying she wanted to be a ballerina. I was happily on board as we already have the leotard, tights and shoes; and I've been saving all my old tutus from years of dance recitals for just such an occasion. But after a few brisk Autumn days, Elliott and I decided the ballerina costume would have to be for indoor use only. So we'd need a warmer outdoor costume. After flipping through catalogs of store-ready costumes, Lilly decided none of them were her taste. She'd need a costume that's a little more personal, a little more reflective of her interests than Disney princesses or another furry animal costume, and something that is apparently not available in any size smaller than a 3-4 and will have to be homemade . . .
So, my next project – like it or not – is Tiny from Lilly's favorite TV show Dinosaur Train. Um, have you seen Tiny? She's a pteranodon for Christ's sake!  But my little girl gets what my little girl wants. I hope. I'm working on it. I just have to keep focused.
If I add a partially completed pteranodon to my list of unfinished projects on November 1st, please feel free to berate me and call me a bad mother in comments. But I'll do my best to avoid that fate.
The
Unfinished Business
by
MushBrain
, unless otherwise expressly stated, is licensed under a
Creative Commons Attribution-NonCommercial-NoDerivs 3.0 Unported License
. Terms and conditions beyond the scope of this license may be available at
mushbrain.net
.